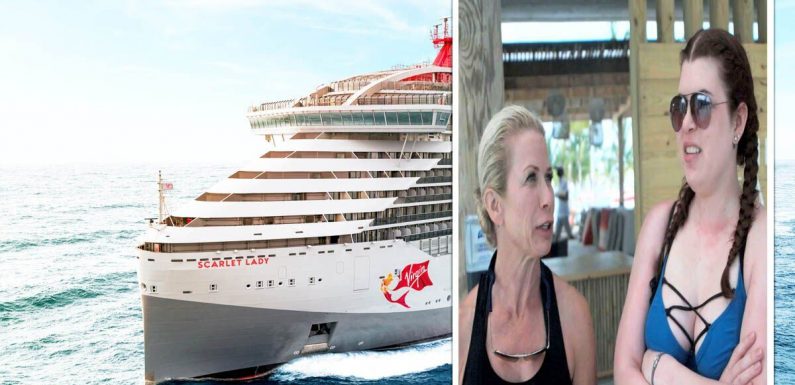 The Cruise: Channel 5 tease travel show in trailers
We use your sign-up to provide content in ways you've consented to and to improve our understanding of you. This may include adverts from us and 3rd parties based on our understanding. You can unsubscribe at any time. More info
Passengers on Virgin Voyages' Scarlet Lady were treated to an exclusive day out at the luxury island Bimini, in the Bahamas. But not everything went as planned.
On Virgin Voyages, VIP passengers are known as Rockstars and they expect the very best.
Crew member Jayson said: "These sailors, they have spent the most money, they have the biggest expectations."
Disaster struck when one family of Rockstars were running late for an expensive stingray excursion.
Passengers book excursions while onboard and many pay hundreds for luxury island experiences.
The family's shuttle bus was 15 minutes late and they ended up missing out on the exclusive experience.
Brianna, 29, said: "I was really excited to go out and see the stingrays, because I just think they're super cool.
"Not today I guess. I'm the most disappointed."
One of the group said: "We missed our excursion because the shuttle took like 15 minutes to show up.
"Nobody told us until after the fact that we could have called our private Rockstar shuttle."
The disappointed passengers weren't offered a refund although they did see a stingray at the beach.
Excursion manager, Kaylie, said: "When people are at the beach club and they're enjoying their time, time sometimes runs away with people."
Meanwhile, other VIP passengers were enjoying an exclusive luxury party at Bimini's beach bar.
Only Rockstars were allowed to gain access to the private event which meant crew member Selma had to act as bouncer.
She had to stop those without a black band entering the area, however she did allow some VIP guests to bring some friends in.
She faced an awkward situation when some spring break college students made it past her to the bar.
Selma said: "Unfortunately we're having a spring break on the island so it's full of teenagers.
"They're not allowed to be here while we're using the retreat.
"They're not happy about it, but what to do, it is how it is. I don't like saying no but sometimes you just have to set boundaries."
Guests have to receive the same level of service on dry land as onboard, so mixologist Rick has to offer around 50 drink options at the island bar.
He said: "300-500 cocktails a day, that's a lot. The preparation starts one day before. It's one of the biggest days for us."
Meanwhile at lunch service the team had to serve over 800 meals to hungry cruise passengers.
Jayson knew exactly how many seeds were sprinkled on the hummus saying: "consistency is the cornerstone of our organisation."
The Cruise episode three is on Channel 5 at 9pm.
Source: Read Full Article