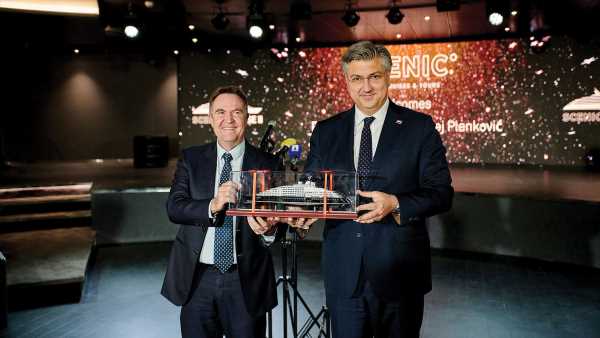 The Scenic Eclipse II has been delivered by the 3. Maj. Shipyard in Rijeka, Croatia, and is sailing to Lisbon for its first voyage. 
The ship will debut Thursday with an 11-day voyage from Lisbon to Barcelona. The ship's official naming ceremony will be held in Malaga, Spain, on June 3. 
Construction on the ship began in May 2020. Delivered on April 6, the ship is the sister of the first Scenic Eclipse, which was completed in 2019. 
The 228-passenger Eclipse II introduces several new or expanded features, such as a larger steam room, experience showers, a salt-therapy lounge and a bar with indoor and outdoor seating.
The ship also introduces the newly named Chef's Garden @ Epicure, a dining experience and presentation area that can accommodate up to 14 standing or seven seated guests. Guests can take culinary classes in the space, such as learning how to make chocolate and or a whiskey tasting course. 
The ship is part of Scenic Group's plan to double its capacity in ocean cruising in 2023. The Group, which owns Emerald Cruises and Scenic Luxury Cruises and Tours also plans to debut the Emerald Sakara this year.
Source: Read Full Article