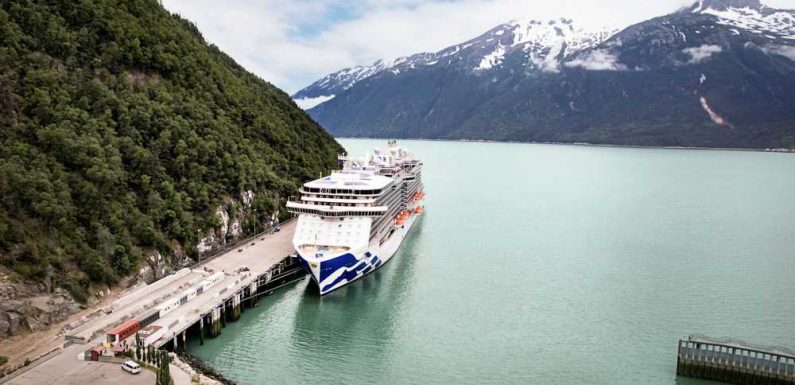 With the forward end of the Railroad Dock in Skagway, Alaska, under threat of a rockslide from the cliff above, Princess Cruises will reroute 11 Alaska sailings this month and next. 
A spokesperson for Norwegian Cruise Line said the line has altered several itineraries of the Norwegian Encore through Sept. 25 and that no other ship'ss itineraries have been impacted. Royal Caribbean said its Skagway itineraries will operate as scheduled. 
The city closed the forward end of the dock last month, prompting Princess to alter itineraries. Since then, a rockslide occurred on Aug. 3 at the forward section of the Railroad Dock. 
Ships can still use the rear portion of the dock, but cruise lines must tender passengers to port to avoid the forward part of the Railroad Dock. Norwegian Cruise Line used this method last week.
Princess said that it will retain two-thirds of its port calls to Skagway through the remainder of the 2022 Alaska season, with 21 of its remaining sailings stopping in the popular Alaska port. But Princess said it could not do all scheduled Skagway calls.
"Because the forward dock that has been closed for the season is the primary location where Princess' Royal-class ships dock and because there are no other viable alternatives, Princess is making adjustments to 10 itineraries," the line said. 
The Aug. 23 and Sept. 6 Majestic Princess cruises and the Aug. 25 and Sept. 1 Discovery Princess sailings will now call at Icy Strait Point. The Aug. 16 and Aug. 30 Royal Princess cruises will stop in Haines. The Aug. 11, Sept. 8, and Sept. 22 cruises on the Discovery Princess and the Sept. 13 sailing on the Royal Princess will visit Sitka instead of Skagway.  
Skagway has three docks for cruise ships, but the Railroad Dock is the only one that can accommodate the industry's largest ships.
Skagway often has three or four ships in town in one day during its short summer season. In an interview with Travel Weekly, Skagway mayor Andrew Cremata said the town expects to lose about 30 cruise ship calls and more than 100,000 visitors due to canceled or rescheduled sailings. 
On Aug 4. Cremata declared a state of emergency due to rockslides that hit the Railroad Dock this summer, "significantly impacting port operations and the safety of cruise passengers and dock workers."
"Unless the risks are mitigated before the 2023 tourism season, the outlook for 2023 will further suppress our economy and threaten the viability of the hundreds of small businesses centered on the tourism trade," he said in the declaration. 
Source: Read Full Article