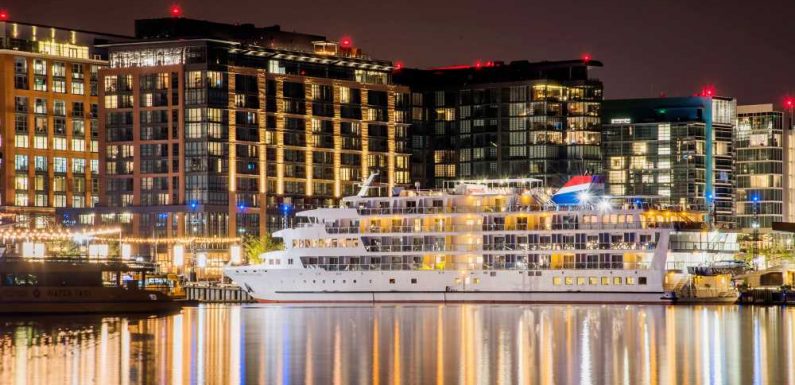 Although there is widespread belief that cruise departures from U.S. ports are forbidden, there are quite a few small-ship operators eager to change that narrative. Chief among them is American Cruise Lines (ACL), which is the first cruise line to resume ocean cruises domestically in the past year.
The line has been sailing coastal U.S. cruises for more than a month, with the launch of its 100-passenger Independence from Florida on March 13.
ACL, which has the largest fleet of U.S.-registered cruise ships in the country, is scheduled to have its full 13-ship fleet sailing by this summer. The line is already offering cruises on the East Coast and the Mississippi, Columbia and Snake rivers and will soon launch in Alaska and Puget Sound.
Along with other small-ship operators in the U.S., it is able to sail in the U.S. under the CDC's cruise restrictions because its ships are U.S.-flagged and accommodate fewer than 200 passengers.
CEO Charles Robertson said the line has benefitted from a surge in demand for domestic trips, pushing the company's bookings to record levels this year.
"Small ships and close-to-home routes have never been more popular," he said. "As domestic travel takes off, people are realizing there is so much to explore in the U.S. We visit 30 states, and as [passengers] find us, they realize we have something they've always wanted to do and didn't realize cruising is an option."
For example, he said, people looking to visit Maine might not have previously realized you can take a cruise there, adding that the same thing is happening in Washington, D.C., where, in 2018, ACL was the first cruise line in 60 years to dock there, and it continues to do so.
"Taking a cruise to Washington, D.C., isn't something that enters most peoples' minds," Robertson said. "But if they look at how they can best see Washington, we're suddenly a very appealing option."
Ted Blank, with Travel Leaders in Woodbury, Minn., is also experiencing a rise in domestic cruise bookings.
"Folks who had hoped to go to Europe are looking at domestic river cruises, coastal cruises and small-ship Alaska cruises as a good alternative this year," he said. 
For example, he just booked an ACL Columbia River cruise for a couple to replace a British Isles cruise they had planned. 
"I think people are just surprised at the breadth of [domestic] itineraries that are offered," Blank said. "You can cruise to Martha's Vineyard, Bar Harbor and some of the cute New England places. There's an Intracoastal Waterway cruise in South Carolina. I'd absolutely suggest those to folks." 
Blank said he expects the pickup for all domestic itineraries to continue next year because of discussions taking place with clients now. 
"This has allowed us to have those conversations," he said. "As time goes on, we'll see more and more interest in those because we've had the opportunity to talk about them. Even if folks didn't decide to do that this year, it's a good seed to plant." 
Robertson said that American Cruise Lines has gotten "fantastic interest" from advisors this year for offering so many domestic options and newbuild ships with the modern amenities that their clients are accustomed to from cruising abroad on modern ships. 
"And now, they're able to offer a very similar product that's close to home," he said. "Our ships have all the same amenities and luxuries that people have come to expect in global travel but that previously wasn't available in this country. So it's a very seamless transition into those products. That's where we really found this nice growth with the travel advisor community."
Ports and protocols
Preparing to launch 13 ships out of 65 domestic ports was no easy feat. Robertson said that ACL worked very closely with each port of call to tailor its operating plan so they are comfortable with the line's return.
"We have such close relationships with the communities and provide such an immersive experience that we need them to be comfortable with our operations," he said. "We want them to continue to welcome us once we get past the pandemic. Barging in right now would really not be welcome." 
It has resulted in a patchwork of protocols. 
"It changes a little depending on the region, each state is a little different and has different requirements and preferences. We're reopening as we're able to work with each one," he said. "It's going very well and has allowed us to find this unique ability to operate right now." 
ACL does not have a fleetwide vaccine mandate but rather tailors that requirement to the specific destinations it calls in. He said the line will likely require it in Washington state and Alaska but does not on its East Coast cruises. However, it strongly recommends people be vaccinated, suggesting they move their cruise to a later date if they aren't.
The majority of passengers are vaccinated, Robertson said.
Source: Read Full Article