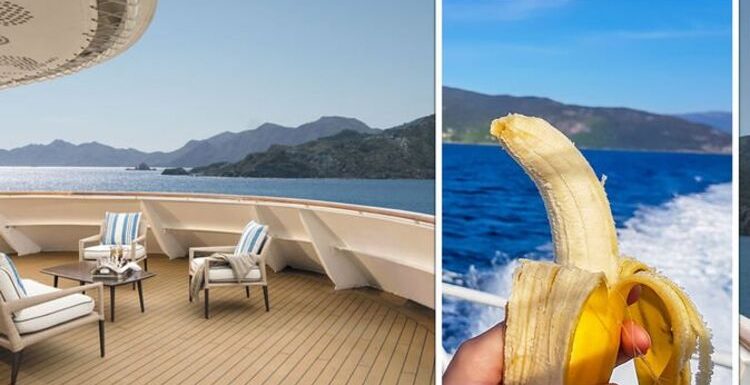 We use your sign-up to provide content in ways you've consented to and to improve our understanding of you. This may include adverts from us and 3rd parties based on our understanding. You can unsubscribe at any time. More info
The Seven Seas Explorer has 550 staff members who take care of the most exclusive guests.
John Barron, the cruise director, explained the cruise is full of luxurious features such as artwork valued at £4.6million.
The chief housekeeper revealed the grand suite is one of the most expensive cabins costing £3,000 a night.
The only difference with a five-star hotel, the staff explained, is that "items need to be more secured".
But how do staff make sure they provide the best experience for guests in terms of food and drinks?
Everything onboard the ship has to be of the highest quality.
That is why chef Michael checks the produce and supervises the food before it is loaded.
He shared the hack cruises use to ensure they offer "perfect" bananas at all times.
Michael explained: "We are always ordering the bananas in two or three different stages.
"Ripe, half-ripe and unripe.
"We are going on a 12-day cruise.
"If all the bananas were fully ripe from the start we wouldn't have enough.
"They would go bad halfway through the cruise.
"Luxury is luxury, all the way," he said.
Many guests on board the cruise explained why they think the Seven Seas Explorer is a luxury holiday.
"You know you're in serious luxury here when they greet you with champagne and the first thing you see is this massive chandelier," said one guest.
"Luxury is anticipating your needs without having to ask for them," explained another.
Another guest shared what the luxury experience is like: "There's no 'no'.
"You're never going to hear the word no.
"They will do whatever they can to fulfil your requirements."
Source: Read Full Article