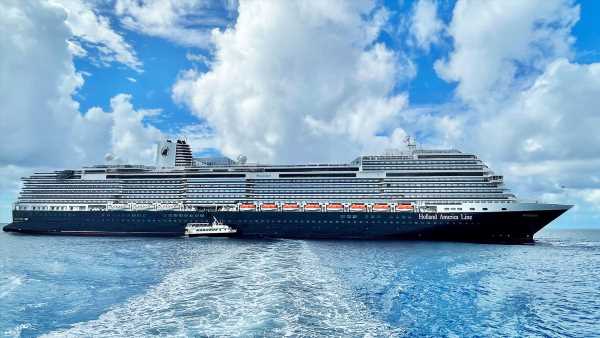 Holland America Line is refreshing its Europe itineraries to combine regions for new and longer voyages in 2024. 
The line will offer new departure ports along with the longer itineraries from April to November on the Nieuw Statendam, Rotterdam, Oosterdam and Zuiderdam. Voyages will range from seven to 35 days.
The 2024 season will include nine overnight ports and 33 ports with late-night departures, enabling guests to spend more time ashore in the Baltic, British Isles, Canary Islands, the French and Spanish Riviera, Israel, the Mediterranean, and in Northern Europe — including Iceland, Greenland and Norway. 
In Northern Europe, the Rotterdam will sail roundtrip itineraries from its Dutch namesake city. Seven- to 14-day sailings will call in Norway, Sweden, Denmark, Scotland, England, Ireland, Belgium, the Norwegian Fjords, North Cape, Denmark, Germany and Finland.  
The Nieuw Statendam will sail seven- to 14-day voyages in Northern Europe to the Baltic, British Isles, North Cape, the Northern Isles of Scotland and Iceland. New itineraries include sailings between Copenhagen and Reykjavik along with the Ultimate Viking Explorer, a 21-day sailing roundtrip from Copenhagen. The cruise retraces the routes that the Vikings once made across Norway, Scotland, Iceland and Greenland. 
The Zuiderdam will sail a 14-day Northern Europe cruise calling in Norway, Germany, Estonia, Finland, Sweden and Demark, followed by another 21-day Viking sailing around Iceland, Greenland and Scotland. Both sailings are roundtrips from Ijmuiden, Netherlands. Linked together, the two cruises can form a 35-day journey to 10 countries and 23 ports. 
The Zuiderdam is also scheduled to sail from Ijmuiden to Boston in June for another 21-day sailing tracing the Vikings that will call in Norway, Iceland, Greenland and Canada. It can be combined with another voyage to form a 42-day sailing that calls in 21 ports. 
In a return to the Canary Islands, the Nieuw Statendam will sail a 14-day cruise departing from Rotterdam on April 21 with calls in Madeira, Gibraltar and Spain. 
Bermuda is also back on two HAL transatlantic itineraries from Fort Lauderdale. The Nieuw Statendam will cross in April with calls in Bermuda, France, Guernsey and Belgium on the way to Rotterdam. In May, the Zuiderdam will call in Bermuda, Ireland, England, France and Belgium crossing to Ijmuiden. 
In the Mediterranean, the Oosterdam will sail roundtrip cruises from Athens or between Barcelona, Trieste,
Civitavecchia and Piraeus. The sailings range from seven to 14 days in the eastern and western Mediterranean, including Greece, Turkey, Tunisia, Israel, Italy, Croatia, Montenegro, France and Spain. 
The Nieuw Statendam will sail 14-day cruises between Civitavecchia and Piraeus and roundtrip from Piraeus, focusing on the eastern Mediterranean. The ship will call in Italy, Egypt, Turkey, Croatia, Montenegro and Greece. The Nieuw Statendam will also sail a 14-day Holy Land cruise in October with an overnight in Haifa. 
Holland America Line will also sail a 35-day Voyage of the Vikings on the Zuiderdam departing July 20, 2024. The ship will sail roundtrip from Boston with calls in Maine, Canada, Greenland, Iceland, Scotland, Ireland, Northern Ireland and Norway. The sailing is also offered in 17- and 18-day increments from Boston to Rotterdam or Rotterdam to Boston. 
Those who book with the code "Have It All" will receive upgrades to their beverage and WiFi packages and free gratuities.
Source: Read Full Article