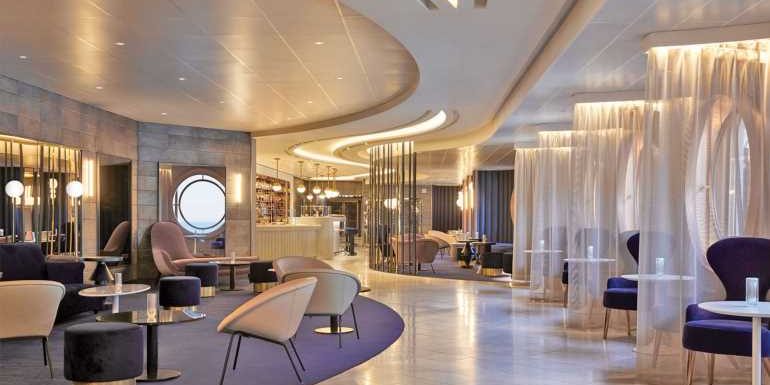 ONBOARD THE SCARLET LADY — Stepping aboard Virgin Voyages' Scarlet Lady, the first of the company's "Lady ship" vessels to hit the high seas when it debuted last summer, one immediately begins to understand that unlike school in the summertime, class is definitely in session here.
For the novice cruiser, it means plentiful lessons in what to want — and not want — from a cruise, how to dine and why variety and options both on and off the ship are necessary. 
Not to mention how to travel in style. 
For this first-time cruiser but longtime lover of the Virgin brand, it didn't take long to arrive at a game-changing conclusion soon after embarking on a five-day Mayan Sol voyage to Mexico and the Bahamas: It is hard to imagine ever cruising on anything but an adults-only line after this experience.
It wasn't until day two or three, while at sea en route to the Virgin-owned Beach Club on the Bahamian island of Bimini, that I started wondering why this experience was turning out to be as pleasant as it was. As I strolled along Deck 16, overlooking the main pool area called the Aquatic Club, the DJ was spinning solid hits from his ivy-covered booth during the typical lunchtime jam session. I floated on by, casually dancing to a remixed version of Fleetwood Mac's "Everywhere" on the balcony, taking in the sights of the ship and the ocean without a care in the world — or any kids hopped up on sugar, running around and screaming, threatening to kill the vibe.
In spite of its lively atmosphere, there is a deep and real sense of calm aboard the Scarlet Lady, and with it the promise of uninterrupted relaxation no matter where you spend your time. Pining to be part of the hustle-and-bustle action of the Aquatic Club like you're partying on a luxury yacht? No problem. Deck 15 is the spot for you. With plenty of private booths, daybeds and secluded outdoor seating options, in addition to more outward-facing seating, you can still feel like you're at the party while having a mini one of your own.
Indoors, you'll find intimate corners to keep the party going. The Sip Lounge, one of my favorite places onboard, is a superluxe, velvet playground overflowing with Champagne, caviar, pastries — and did I mention Champagne? For me, even better than the Moet & Chandon Imperial selection was afternoon tea, only available on sea days from 1 p.m. to 4 p.m. 
I was delighted to learn about the full-scale tea party, with all the little cakes, scones and tiny finger sandwiches served on those darling three-tiered towers alongside an incredibly aromatic and flavorful pot of jasmine tea for only $19. There's also a $35 tea party option that comes with a single flute of Champagne. (Emphasis on single; wishful thinking had me believing this option came with the whole bottle.) 
And this isn't your average English tea party; with speakers dropping classic hip-hop, you realize that Ja Rule, Ashanti and buttery biscuits never seemed like a perfect pairing until now. Afternoon tea ended up being the best catch of my third day.
From top to bottom, stern to bow, the Scarlet is one good-looking Lady, with style, modernity and pizazz — not only in the aptly named Razzle Dazzle restaurant — while never being under- or overwhelming.
Virgin's biggest challenge
When I met with Tom McAlpin, Virgin Voyages CEO, at the Mediterranean-styled lounge alcove the Dock — both his and my favorite spot on the ship — he discussed the brand's biggest challenge following the pandemic-driven two-year delay of its launch.
"As a startup but growing travel brand, generating awareness is one of our top priorities," McAlpin said.
Startup. Growing. Awareness. Surely he was joking. None of these words come to mind when a millennial like myself thinks of the Virgin brand, which has been around since Richard Branson co-founded Virgin Records in the 1970s and has grown to include airlines and hotels. But McAlpin made a good point: Virgin is more widely known in the U.K., and its leisure travel side — hotels and cruises — are still small.
"Our ships feel like a boutique hotel. Getting that messaging across takes time, especially when you have two ships versus established companies that have fleets of more than 15 ships," McAlpin said. "We'll get there, and we've seen incredible demand for the Virgin Voyages' product."
And, of course, timing was not Virgin's friend. The Scarlet Lady was slated to debut in March 2020.
"Let's be clear: Early on we chose not to amp up traditional marketing channels that feed broader brand awareness — this was our choice," McAlpin said. "We mindfully held back on aggressive marketing tactics, specifically paid media, given the travel climate when we launched.
"With the improved environment, we're going to be amping up our marketing efforts. We'll be increasing our ad spend, working closely with new investors like Patricof Co. athletes [i.e., Serena Williams, Blake Griffin, Kemba Walker] and tapping into strategic partnership opportunities to highlight the brand."
Even if you are intimately familiar with Virgin, taking a Virgin Voyages cruise will make you feel like you're experiencing the brand for the first time, all over again.
Source: Read Full Article