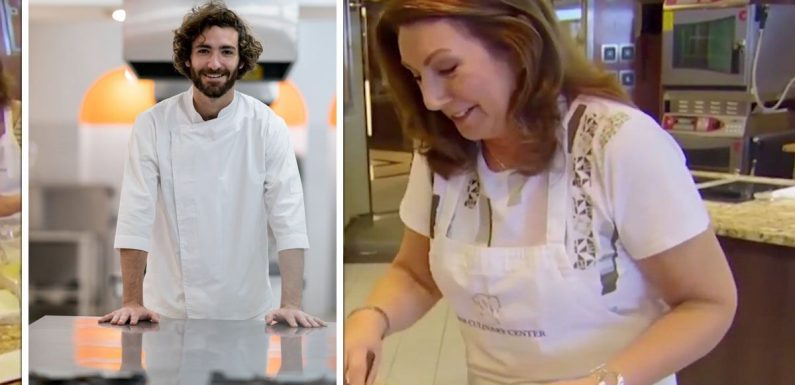 Jane McDonald learns how to make 'the perfect crepe'
We use your sign-up to provide content in ways you've consented to and to improve our understanding of you. This may include adverts from us and 3rd parties based on our understanding. You can unsubscribe at any time. More info
Jane McDonald is the queen of the sea. On one episode of Channel 5's Cruising with Jane McDonald, she shared a fabulous on board activity that cruisers should get stuck into.
Cruises are the epitome of luxury and relaxation.
However, this doesn't mean cruisers can't come away with a brand new skill to take home with them after their travels.
On board the Oceania Marina, singer Jane McDonald took part in a cookery class.
Despite the fact that cruise ships are almost synonymous with good eating and beautiful buffet spreads, cruise ships often offer this type of class.
Jane told cruisers: "All that snooping round the restaurants has made me hungry.
"So, I've booked myself into a cookery class."
The cruise singer turned presenter learned how to make "perfect" Crêpes Suzette, one of her "favourite dishes".
She explained: "Lots of cruisers have kitchen demos.
"But the Marina was one of the first to have a full-blown cookery school at sea."
And it's not just anybody who teaches passengers to cook.
Jane told viewers: "The classes are provided by top chefs, all providing step by step guidance."
But even though they are taught by leading professionals in the industry, this is a time for passengers to relax and have fun while learning a new skill.
READ MORE: 'Save extra cash' Five easy money saving tips for travel this summer
The chef told Jane and her fellow cruisers: "Relax, chill out, smile, we're here to learn, cook, have a good time."
For Jane's cooking lesson, cruisers were put into pairs, so this is also a great way to make friends on board.
This is an especially good idea for cruisers whose friends or family aren't particularly into cooking – so they don't have to learn alone.
Having a partner also makes the experience a little less intimidating.
Jane punched she air as she absolutely nailed the Crêpes Suzette, complete with "boozy" orange sauce.
She was even branded a "natural" chef.
One thing to make note of, however, is that culinary classes may come at a price.
On Royal Caribbean cruises, passengers will be charged an unspecified fee, according to the official website.
P&O cruisers can go to cookery school for "a little extra" but may even be schooled by "godfather of British cooking" Marco Pierre White.
Source: Read Full Article