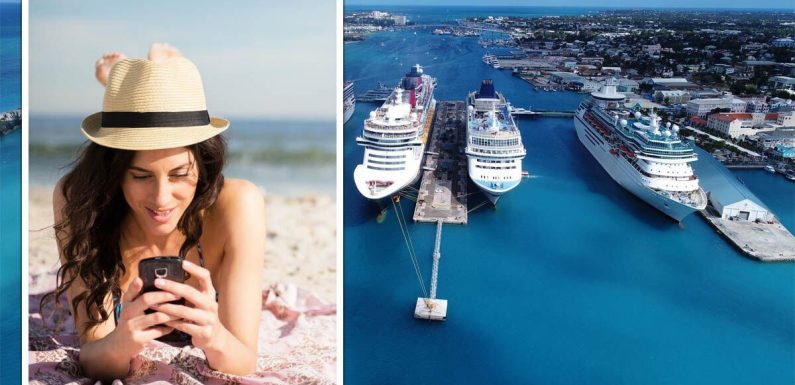 Jane McDonald takes part in painting challenge on cruise
We use your sign-up to provide content in ways you've consented to and to improve our understanding of you. This may include adverts from us and 3rd parties based on our understanding. You can unsubscribe at any time. More info
Unfortunately, pickpockets may know cruise schedules and target cruise passengers at busy ports. However, regular guests have shared some top tips to protect valuables on a cruise.
One Reddit user said they were travelling to the Caribbean as a solo female traveller on their first cruise.
They said: "I'm wondering if anyone has any advice on how to secure your belongings when in port, specifically on the beach while swimming or snorkelling."
One passenger replied: "Only take what you need, maybe use a closed toe shoe to store stuff in."
Hiding valuables at the bottom of a shoe might not be the most foolproof way to protect items but could be used in certain situations.
Another passenger advised: "Key to solo travelling is to take only what you must have on an excursion or what you can safely carry with you.
"In this case the less you carry the better. Do you really need everything and the kitchen sink when you go to the beach?
"Take one credit card, a small amount of cash, ship's card, picture ID and your phone.
"All of this can easily fit inside of a waterproof phone case that has been tested before you leave.
"Take it with you when you go swimming or have to leave your belongings. This you never leave unattended."
A clear plastic waterproof case can be taken into the sea but tourists should make sure they've checked it before taking a dip.
Customer reviews should help cruise passengers to find the best option for their individual needs.
The passenger added that towels and other inexpensive items could be left on a beach chair while guests are in the sea.
They said: "This stuff can be left on your chair when you go for a quick dip, without much trouble and if lost you can easily replace it.
"Find a clear plastic carry along so thieves can see your stuff is not really worth stealing."
Another passenger said: "Keep valuables like the majority of your cash and passport on the ship."
It's a good idea to leave every non essential on the ship while at port as it's not worth taking the risk.
They added: "Put your stuff close to another family's stuff so it looks like you're together."
Passengers could always ask other guests to look after their belongings if they trust them to do so.
Some beaches will also have lockers where passengers can leave their valuables while they're in the sea.
If passengers want to wear jewellery on a cruise, it's a good idea to take cheaper or costume accessories instead of valuable pieces.
Source: Read Full Article