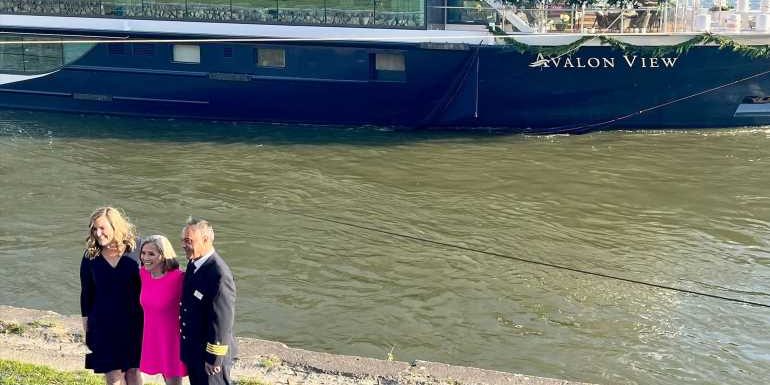 BRATISLAVA, Slovakia — Avalon Waterways has welcomed a new Suite Ship into its fleet.
The Avalon View was christened here on Tuesday by its godmother, broadcast journalist Meredith Vieira.
The ceremony was held on the banks of the Danube River where 75 guests gathered to watch the tradition of breaking a bottle of champagne (or, in this case, locally produced Slovakian sparkling wine) over the bow of the new ship. 
Vieira, a former host of ABC's "The View," recited her blessing to wish the ship good luck and smooth sailings on its future voyages before doing the honors of cutting the rope that released the bottle of Johann Hubert Exclusive.
"May all aboard her travel safely with eyes wide open to the wonders that await. And what a fitting name: I now christen thee, the Avalon View. Take a little time to enjoy it," Vieira said, referencing the long-running talk show's signature closing line. "Take a little time to enjoy The View."
The Avalon View is the luxury river cruise line's 14th Suite Ship.
Pam Hoffee, who on April 8 was appointed president of Avalon Waterways, a promotion from her previous position as general manager of the river cruise line, said Vieira as a choice for godmother of Avalon View was an obvious one.
"As a difference‐making broadcast journalist, executive producer and television host, Meredith Vieira has given us a unique, up‐close‐and‐personal view into her life — and the lives of countless others — with unparalleled storytelling, compassionate interviews and an extraordinary ability to connect with those she meets," Hoffee said in her remarks. "We are thrilled to celebrate Meredith, and her many accomplishments, today as she honored us as godmother, christening the Avalon View."
While all of Avalon Waterways' Suite Ships are built similarly, there are certain differences that set the ships apart. The Avalon View, for instance, is the first of the Suite Ships to feature a glass balcony instead of a balcony with stainless steel railing. 
The Avalon View will sail the Danube River in 2022 and 2023.
Source: Read Full Article