"The river's high," says Tim Dent, Irish owner of River People Rafting. "Sometimes it's class three to class four. Today it's all class four."
Some 38km of Ecuador's Jondachi and Hollin rivers lie ahead, two of the world's best white water rafting routes. Notorious for fluctuations in level, after the previous night's storm these powerful, rain-fed tributaries of the Rio Napo are in full flow. It is going to be a memorable ride.
"From the start it's rapids," says Tim. "If you're thinking some quiet pools, time to get used to things… No. It's paddle, paddle, paddle."
With that in mind, my travelling companion Adrian and I sign the kind of risk waiver mothers hate, and watch Tim trace the route on a map pinned to the wall. "We're looking at large volumes of water so we're taking the big raft. Gabrael is in charge, you'll have two extra paddlers. Albaro and Alex will be in the rescue kayaks."
Tim, it transpires, is not coming along. "Nah… my ears. I've had an operation on one. You have to pay for your fun."
Women from an indigenous village help carry gear down an overgrown path to the water's edge. Using paddles for suppor,t we do the same, sliding awkwardly through ankle-deep mud. We are still picking our way down when the chatting women pass us on their way back.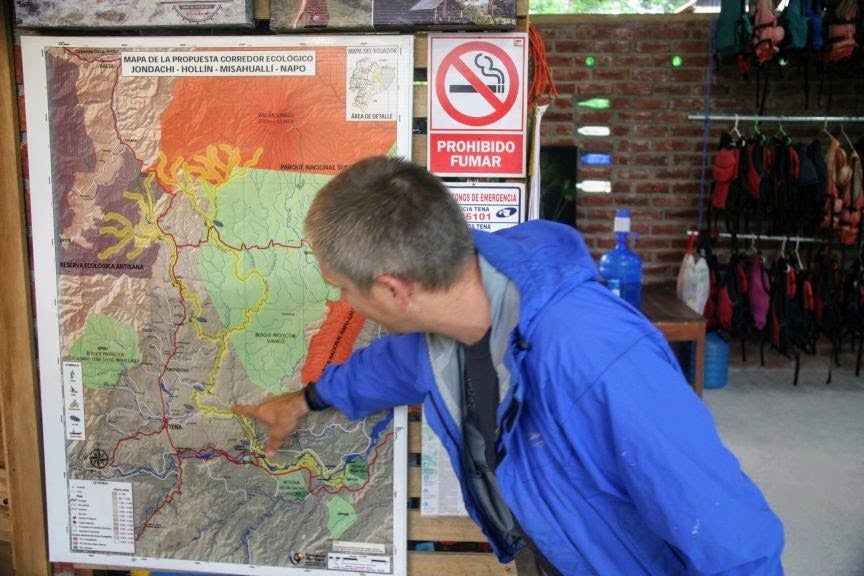 Adrian and I look at the water, then at each other. The river is brown and angry.
"Who's done this before?" asks Gabrael. I discount a summertime hour on a river in Austria and keep quiet. "It's okay. It's my first time too," he jokes. We run through basic commands, work out left from right, front from back, what to do if we fall in… And then we are off.
One foot jammed under a crossbeam for support, our paddles are poised. "Three forward!" yells Gabrael. "Right forward, left back! Forward! Now paddle!"
Tim isn't wrong. There is no time to admire the scenery as we immediately crash into a deafening torrent of white water. Glassy swells barely containing hundreds of tons of surging energy explode, pitching us up and down.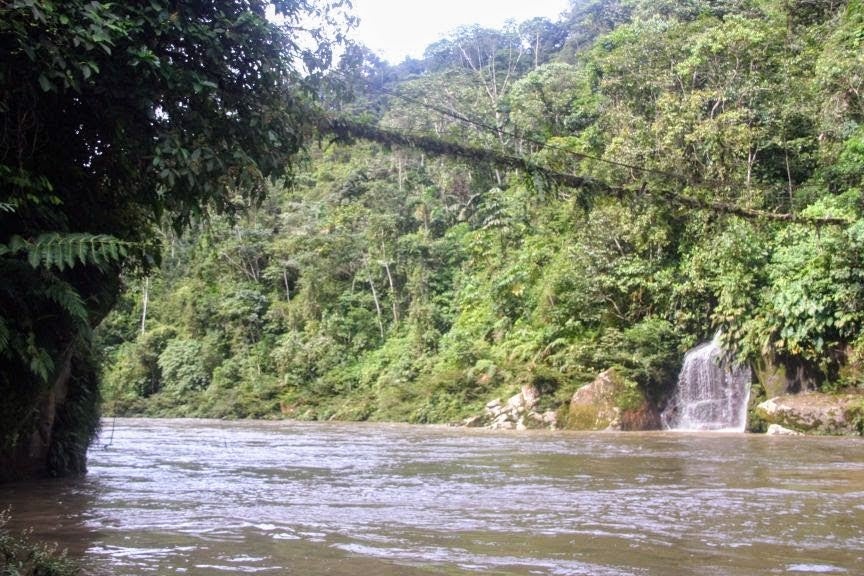 My paddle sweeps uselessly through thin air. There is an involuntary collective gasp as we disappear in the spray, and then are spat out from the tumult, soaked, shocked, rendered dumb by an overdose of adrenaline.
"How was that?" asks Gabrael.
"Just happy to be alive," I splutter.
"This next rapid, the current wants to take us right. In the middle it's okay, but whatever happens we must to stay away from the right," cautions Gabrael. "It's a big washing machine there and we'll have problems. Okay? Paddle like you mean it. Three forward! And again."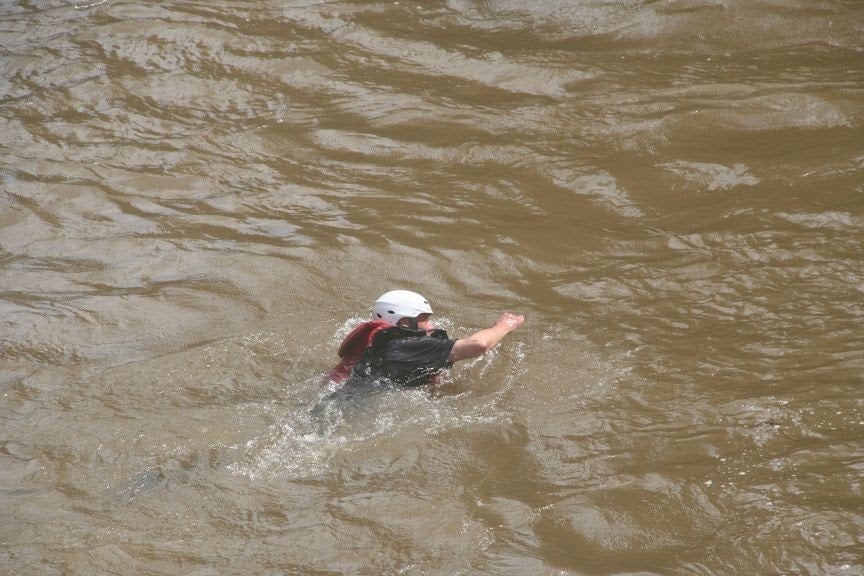 What happens next remains unclear. Possibly we collide with a rock. Possibly not. I do remember being in the river, under the raft, fighting to get out. Spitting water and regaining the surface, it is all I can do to point my legs downstream and ward off rocks. I am swept along like an errant sock in a mixed wash. At best I hope to avoid the washing machine's spin cycle.
Mastering the current, an unsmiling Albaro positions his kayak to intercept my chaotic movements. Grabbing the kayak's bow handle, together we edge towards quieter water. "Swim to the bank," he shouts.
I presume the raft is now further downstream. I am wrong. Gabrael soon appears, standing at the helm steering towards the bank. I stick out my thumb, throw myself in and grip my paddle.
We are soon midstream, and the day is far from over.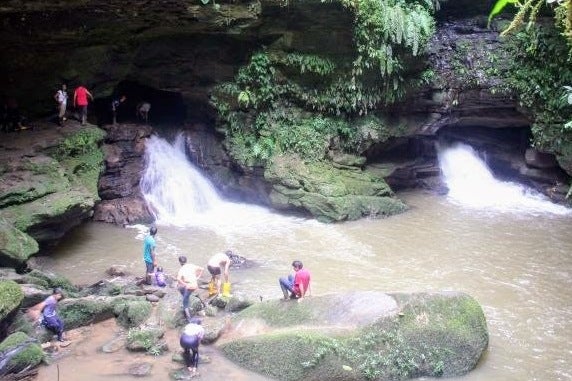 "Three forward! Paddle!" instructs Gabrael. I count the strokes loudly in Spanish, then Italian, then German, determined from now on to remain aboard. Rapid after rapid follows in a waterborne rollercoaster ride, from La Escalera (the Stairs) and El Durrumbe (the Landslide) to the Bone Cracker – which seems only to concern English speakers.
Lunch is comically civilised after the morning's insanity. At the confluence of the turbid Jondachi and clear Hollin rivers we beach on a stony bank. Albaro and Alex erect a table, furnish it with a pretty cloth and an array of tortillas, beans, guacamole and salad, along with revivifying guayusa tea.
"We're halfway. From here the river has higher-volume rapids, but between them are pools and we have time to look at the view," says Gabrael.
The day ends with La Wafelera (The Waffle Maker), a cataract known for its propensity to neatly fold rafts in two. "This one, when I say paddle, paddle hard, use your whole body, keep paddling and don't stop," says Gabrael. "If I say 'inside' then get down and hang on…"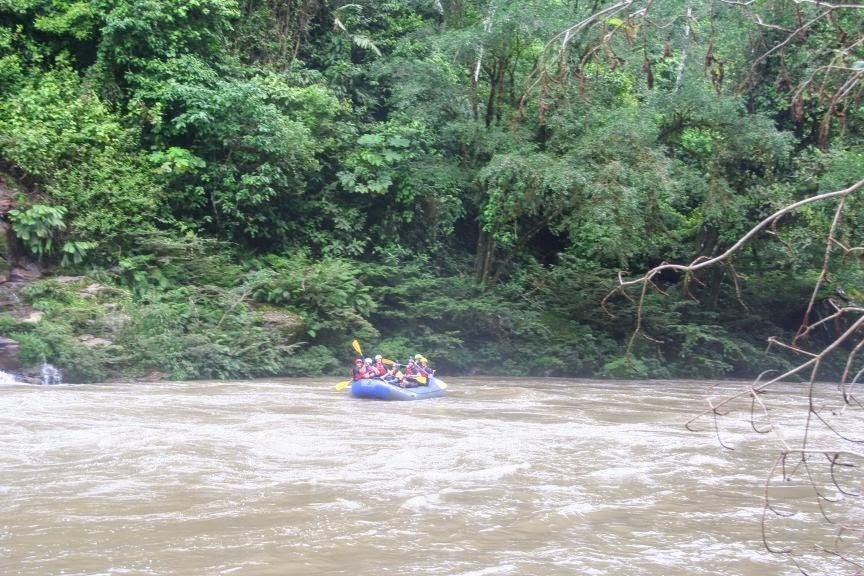 This is good advice. Becoming airborne in a seven-man raft is difficult but we manage it. Ruffled but not waffled, we emerge into calmer waters and paddle towards a shady bank. A gravel road leads through the trees where Tim waits with a trailer.
"Cold beer?" he asks. Yes please.
Travel essentials
Getting there
Nick flew with Avianca, which operates regular Heathrow to Quito connections via Bogota from £576 return.
Staying there
Nick was a guest of Travel Local, an Abta-bonded online network of local travel companies based in 45 destinations around the world.
A nine-day Ecuador Andes and Amazon itinerary, including rafting the Jondachi and Hollin rivers, Papallacta hot springs and Mandari Panga jungle lodge costs from £1,543pp.
Source: Read Full Article